Joan Appel - visual artist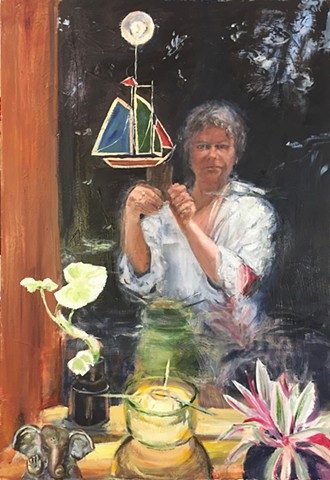 I am a visual artist. I experience life as having order as well as disorder through sound and sight. I create art along with music. The execution of the painting therefore becomes a personal performance, as were my song recitals when I was singing professionally, the one difference being: I am not interpreting someone else's poetry - I am creating my own in color and shape.
J.A.

As an artist I work in mixed media, monotypes, oils and alcohol inks. I live on the South Shore of Boston Massachusetts. My works are shown in galleries in New England and nationally and have received local and national awards.
Recent Prizes:
FIRST PLACE in mixed media for "The Bride's First Cake", Cape Cod Art Association (Barnstable, MA)
FIRST PLACE in Printmaking for "Le Fleuve", South Shore Arts Festival (Cohasset, MA)
GORMAN AWARD for "Fishin'", Cape Cod Art Center (Barnstable, MA)
FIRST PLACE in mixed media for "Harborside", South Shore Art Center
BEST IN ABSTRACTS for "Swept Away", Cape Cod Art Center
BEST IN SHOW for "Hekate", Elk Grove Art Center (Elk Grove, CA)
BEST IN SHOW for "Glass Top Table", Cape Cod Art Center