Joan Appel - visual artist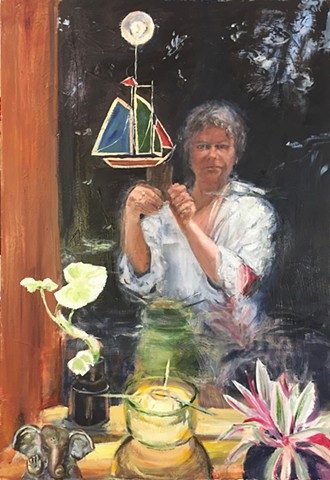 Joan is both a professional musician and artist. As such, she experiences life as having order as well as disorder through sound and sight. Although trained as a classical musician, art-making has always been a very important part of her life. She has created art along with her university and conservatory study as well as performing in the United States and Europe. She feels that the execution of a painting becomes a personal performance, different from interpreting someone else's poetry in song as she is expressing her own poetry in color, shape and texture.
Some of her art education was at the Museum of Fine Arts, Boston, Paier College of Art and Lesley University. At Lesley she earned a Master's degree in Arts Administration. This enabled her to be hired as Development Manager at the South Shore Art Center in Cohasset, MA, and to later become Acting Director there.
Oil painting and monotype printmaking are her primary forms of artistic expression. Recently she has become fascinated by the interaction of light reflections on and through glass or water, and the challenge of depicting this with oils. She is honored to have had several of these canvases win prizes: best in show at the Cape Cod Art Center and the Cape Cod Museum of Art; Elk Grove Art Center, CA
Joan's mischievous personality is frequently expressed in her art. Her impressionistic paintings often have hidden faces. Story-telling and commentary on ecological issues are evident in much of her work, sometimes stated with wry humor, often in mixed media. Her monotypes are created without a press in her Marshfield MA studio. These abstract pieces have been included in such international exhibits as at the University of Massachusetts, Amherst and the Newport, RI Museum of Art.
Joan is a member of the National Association of Women Artists, national and Massachusetts chapter, the American Impressionist Society, Monotype Guild of New England and the Boston Printmakers.



Recent Prizes:
FIRST PLACE in mixed media for "The Bride's First Cake", Cape Cod Art
Association (Barnstable, MA)
FIRST PLACE in Printmaking for "Le Fleuve", South Shore Arts Festival
(Cohasset, MA)
GORMAN AWARD for "Fishin'", Cape Cod Art Center (Barnstable, MA)
FIRST PLACE in mixed media for "Harborside", South Shore Art Center
(Cohasset, MA)
BEST IN ABSTRACTS for "Swept Away", Cape Cod Art Center
BEST IN SHOW for "Hekate", Elk Grove Art Center (Elk Grove, CA)
BEST IN SHOW for "Glass Top Table", Cape Cod Art Center
BLAKE MEMORIAL MEDAL OF HONOR for "The Family Yacht", National
Association of Women Artists 133rd Annual Members Exhibition